Rhonda Foster Joins Children's Hospital Los Angeles
We at Moore and Associates are pleased to announce that as of July 15th Rhonda R. Foster, EdD, MPH, MS, RN, NEA-BC, has joined CHLA as Vice President, Patient Care and Chief Nursing Officer (CNO)!
As CNO, Rhonda oversees and provides strategic direction, planning and leadership for hospital-wide nursing operations. Reporting to Nancy Lee, the Chief Clinical Officer, she helps to formulate initiatives to address the developing needs of the community and changing trends in healthcare; establishes standards for the delivery of care and clinical practice for CHLA; and ensures that operations are compliant with Joint Commission guidelines as well as federal, state and local regulations. The CNO position, which previously had been consolidated directly under the Chief Clinical Officer's purview, has been re-established as part of CHLA's effort to better support direct patient services on all parts of the clinical care continuum.
Rhonda brings a wealth of nursing administration and leadership experience to this position, including serving as interim Senior Vice President and Chief Nursing and Patient Care Services Officer at City of Hope National Medical Center; interim CNO with St. Joseph Health – Sonoma County; Vice President of Patient Care Services and CNO at Children's Hospital of Michigan in Detroit; and Assistant Vice President of Women & Children's Services at Mercy Health — St. Vincent Medical Center in Toledo, Ohio. In addition, Rhonda has worked as an independent consultant and educator for The Grace Consulting Group, LLC, and the American Nurses Association, providing guidance on issues such as strategic planning, patient experience improvement, electronic records submission services and leadership development.
Prior to her leadership roles, Rhonda spent 13 years as a nurse at St. Vincent Medical Center and Johns Hopkins Health Plan in Baltimore, Md. She earned a doctorate of education from Bowling Green State University, a master's of public health from the Northwest Ohio Consortium for Public Health, a master's of science in nursing administration from Georgetown University, and a bachelor's degree in nursing from the University of Toledo. She also holds numerous certifications and board appointments, and has authored more than a dozen publications on nursing, leadership and quality improvement.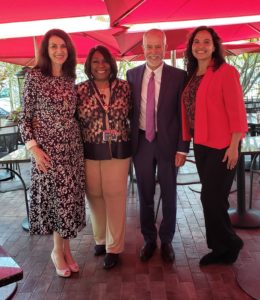 Please join us in congratulating Rhonda on her new journey on the West Coast. We are looking forward to our continuing partnership with Rhonda and CHLA. We are confident she will wholeheartedly further the mission of Children's Hospital Los Angeles.